Artists > Bellmer, Hans
Hans Bellmer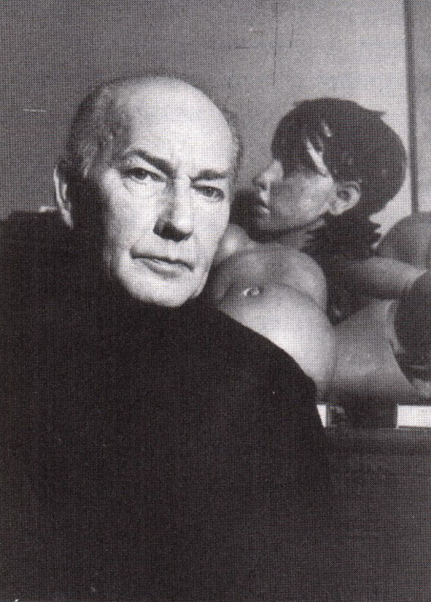 Hans Bellmer
Bellmer was born in the city of Kattowitz, then part of the German Empire (now Katowice, Poland). Up until 1926, he'd been working as a draftsman for his own advertising company. He initiated his doll project to oppose the fascism of the Nazi Party by declaring that he would make no work that would support the new German state. Represented by mutated forms and unconventional poses, his dolls were directed specifically at the cult of the perfect body then prominent in Germany. Bellmer was influenced in his choice of art form by reading the published letters of Oskar Kokoschka (Der Fetisch, 1925).
Bellmer's doll project is also said to have been catalysed by a series of events in his personal life. Hans Bellmer takes credit for provoking a physical crisis in his father and brings his own artistic creativity into association with childhood insubordination and resentment toward a severe and humorless paternal authority. Perhaps this is one reason for the nearly universal, unquestioning acceptance in the literature of Bellmer's promotion of his art as a struggle against his father, the police, and ultimately, fascism and the state. Events of his personal life also including meeting a beautiful teenage cousin in 1932 (and perhaps other unattainable beauties), attending a performance of Jacques Offenbach's Tales of Hoffmann (in which a man falls tragically in love with an automaton), and receiving a box of his old toys.After these events, he began to actually construct his first dolls. In his works, Bellmer explicitly sexualized the doll as a young girl. The dolls incorporated the principle of "ball joint", which was inspired by a pair of sixteenth-century articulated wooden dolls in the Kaiser Friedrich Museum.
He visited Paris in 1935 and made contacts there, such as Paul Éluard, but returned to Berlin because his wife Margarete was dying of tuberculosis. He aided the French Resistance during the war by making fake passports. He was imprisoned in the Camp des Milles prison at Aix-en-Provence, a brickworks camp for German nationals, from September 1939 until the end of the Phoney War in May 1940. After the war, Bellmer lived the rest of his life in Paris. Bellmer gave up doll-making and spent the following decades creating erotic drawings, etchings, sexually explicit photographs, paintings, and prints of pubescent girls. In 1954, he met Unica Zürn, who became his companion until her suicide in 1970.He continued working into the 1960s. Of his own work, Bellmer said, "What is at stake here is a totally new unity of form, meaning and feeling: language-images that cannot simply be thought up or written up … They constitute new, multifaceted objects, resembling polyplanes made of mirrors … As if the illogical was relaxation, as if laughter was permitted while thinking, as if error was a way and chance, a proof of eternity."
Bellmer died 24 February 1975 of bladder cancer. He was buried beside Zürn at Père Lachaise Cemetery with a tomb marked "Bellmer - Zürn".