Artists > Brockmann, Gottfried
Gottfried Brockmann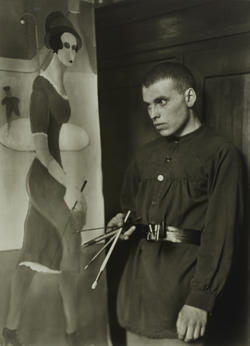 Gottfried Brockmann was born on 19 November 1903 in Cologne-Lindenthal, as the son of a decorative painter.
He spent much time in his father's studio and read art magazines such as the conservative "German Art and Decoration" and the "youth". Brockmann was also interested in his grandmother's tailor studio, as evidenced by the later motifs of sewing machine and tailor's dummy, which appear in his pictures. When Gottfried Brockmann wanted to pursue his free artistic career after the elementary school and the Realgymnasium, his father denied his wish and Brockmann completed a two-year architectural education (1920-1921). This was followed by a practical apprenticeship as a decorative painter, which Brockmann completed in 1922.During this time Brockmann began the first free artistic works, which were influenced by Dada and strived for plasticity currents. From 1923 to 1925, Gottfried Brockmann maintained close contact with the Kölner Progressiven (especially Franz Seiwert, Heinrich Hoerle and August Sander).
In 1926 he decided to study with Wilhelm Herberholz, Ernst Aufseeser and Werner Heuser at the Düsseldorf Art Academy. In 1928 Brockmann was a master student of Heinrich Campendonk. In 1932 Brockmann graduated and married the sculptor Marianne Reunert.
Brockmann moved to Berlin in 1934, where he worked in the workshop of Professor Thol for a year. From 1946 to 1952 he was in charge of a book-printing and lithographic institute in Hof an der Saale, giving private art lessons and building up a "union of intellectual and cultural workers". He also resumed his free artistic activity and was thus listed in the "Fichtelgebirgs Art Exhibition" of 1949 as a member of the "Progressives Group 1948". Other members were Werner Gilles, Heinz A. Meyer, Caspar Walter Rauh and Gottfried Wiegand.
In 1952 Brockmann moved to Kiel to become a cultural officer. In 1975, he was honored with the honorary professorship of Schleswig-Holstein. On 9 July 1983 Gottfried Brockmann died at the age of 79 years.