Artists > Dahl-Wolfe, Louise
Louise Dahl-Wolfe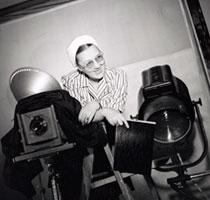 Louise Emma Augusta Dahl was born November 19, 1895 in San Francisco, California to Norwegian immigrant parents, she was the youngest of three daughters. In 1914, she began her studies at the California School of Fine Arts (now the San Francisco Institute of Art), where she studied design and color with Rudolph Schaeffer, and painting with Frank Van Sloan. She took courses in life drawing, anatomy, figure composition and other subjects over the next six years. After graduating, Dahl-Wolfe worked in designing electric signs and interiors. In 1921, Dahl-Wolfe met with photographer Anne Brigman, who inspired her to take up photography. Her first dark-room enlarger was a makeshift one she built herself, which used a tin can, an apple crate, and a part of a Ghirardelli chocolate box for a reflector. She studied design, decoration and architecture at Columbia University, New York in 1923. From 1927 to 1928, Dahl-Wolfe traveled with photographer Consuelo Kanaga, who furthered her interest in photography. Her first published photograph, titled Tennessee Mountain Woman, was published in Vanity Fair (U.S. magazine 1913–36). In 1928 she married the sculptor Meyer Wolfe, who constructed the backgrounds of many of her photos.
She preferred portraiture to fashion photography. Notable portraits include: Mae West, Cecil Beaton, Eudora Welty, W. H. Auden, Christopher Isherwood, Orson Welles, Carson McCullers, Edward Hopper, Colette and Josephine Baker. She is known for her role in the discovery of a teenage Lauren Bacall whom she photographed for the March 1943 cover of Harper's Bazaar. One of her favourite subjects was the model Mary Jane Russell, who is estimated to have appeared in about thirty percent of Dahl-Wolfe's photographs. She was a great influence on photographers Irving Penn and Richard Avedon. One of her assistants was fashion and celebrity photographer, Milton H. Greene.
From 1933 to 1960, Dahl-Wolfe operated a New York City photographic studio that was home to the freelance advertising and fashion work she made for stores including Bonwit Teller and Saks Fifth Avenue. From 1936 to 1958 Dahl-Wolfe was a staff fashion photographer at Harper's Bazaar. She produced portrait and fashion photographs totaling 86 covers, 600 color pages and countless black-and-white shots. She worked with editor Carmel Snow, art director Alexey Brodovitch and fashion editor Diana Vreeland, and traveled widely. In 1950, she was selected for "America's Outstanding Woman Photographers" in the September issue of Foto. From 1958 until her retirement in 1960, Dahl-Wolfe worked as a freelance photographer for Vogue, Sports Illustrated, and other periodicals.